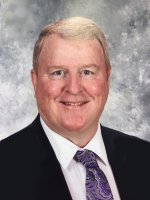 Dear Friends and Colleagues from The Northeast District,
Thank you for the opportunity to serve you as the NEKMEA District President. I am inspired by the good teaching and professionalism that happens on a daily basis by you all. Thank you to the Northeast Board members who have served you and your students for the last two years. They have set the bar very high and I have thoroughly enjoyed working closely with them. Please take a moment at the In-Service Workshop to thank them for all they have done. Our site hosts have been awesome and don't get the recognition they deserve, but I am so grateful for all they do to make our mini conventions successful.
I can not begin to tell you how much I appreciate all our Executive Director Mike Jones has done to get our district on solid footing. Mike is a detail person with an eye to the big picture. His guidance will be a huge influence to all future presidents and our leadership! When you see him at the ISW, let him know how much you appreciate his work.
The KMEA State leadership has always been supportive of all we have done. The KMEA Presidents and especially KMEA Executive Director John Taylor have been and will be, a great resource. Thank you!
Finally, thank you to you the members of our new district. If you had not supported what we were working towards, gotten your students involved, and stepped-up when needed we would not be nearly as successful. I encourage each of you to stay connected, be actively involved, serve as a district leader and help find ways to involve all of our NE music teachers. You are our greatest resource and ultimately what defines who we are.
I know the NE District will be in great hands under President Damian Johnson's leadership. He has a great vision for our future and a talented Board to work with. Good luck to him and President-Elect Becky Thomas.
Again, thank you for the opportunity to serve you. It has truly been my pleasure. I look forward to seeing you this weekend at KMEA!
Sincerely,
Will Cooper