Candidate for President-Elect
Mariah Barnett
Voting for the NEKMEA President-Elect will take place in the KMEA Members site Sep. 14 - Sep. 28, 2021. The new President-Elect will take office on March 1, 2022.
KMEA Members Site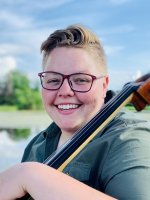 Mariah Barnett
Director of Orchestras
Lawrence High School
Mariah Barnett is in her ninth year of teaching and currently serving as the Director of Orchestras at Lawrence High School. She received her Bachelors of Music Education from Baker University and is currently working on finishing up her Masters in Music Education from Kansas State University. Mrs. Barnett is the current chair-elect of the Northeast KMEA High School orchestra, a Co-Director for the Lawrence Youth Symphony, and former chairperson for the Northeast KMEA Da Capo and Middle Level Honors Orchestras.
Mariah has been a part of the teaching staff at the KU Midwestern Music Camps, Shawnee Heights Summer Camp, and the Lawrence Novice Program. In 2016, Mariah was honored to be named "Kansas Young Teacher of the Year" by the Kansas Chapter of the American String Teachers Association (KASTA). In addition to teaching, Mariah is a member of the Lawrence Community Orchestra and maintains a small private cello studio.