Candidate for President-Elect
Judy Erpelding
Voting for the NEKMEA President-Elect will take place in the KMEA Members site Sep. 14 - Sep. 28, 2021. The new President-Elect will take office on March 1, 2022.
KMEA Members Site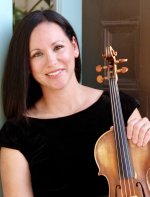 Judy Erpelding
Director of Orchestras
Lawrence-Free State High School
Judy Erpelding is in her 10th year as Director of Orchestras at Free State High School in Lawrence Kansas. She earned her Bachelor of Music Education from Baker University in 2012, graduating with honors, Magna Cum Laude. Mrs. Erpelding completed her internship/student teaching semester under the tutelage of Dr. Rachel Dirks at Lawrence High School, and Mrs. Jennifer Mitchell at Shawnee Mission Public Schools.
In her ten years of teaching, Mrs. Erpelding has been recognized as the NEKMEA 2016-17 Outstanding Young Orchestra Director, the first year NEKMEA gave this honor. Then, in 2020-21, Mrs. Erpelding was named the NEKMEA Outstanding High School Level Orchestra Director. Additionally, Mrs. Erpelding acted as the KMEA All-State Orchestra Chairperson in 2019 and 2020, and served as the Assistant Chairperson in 2017 and 2018. In 2017, Mrs. Erpelding served as an official chaperone/sponsor for the NAfME All-Honors National Orchestra in Florida at Disney World.
During her time as the Director of Orchestras at Free State High School, Mrs. Erpelding has grown the program from two ensembles, to seven ensembles (5 curricular, 2 extra-curricular). She has led her top ensembles at the KSHSAA State Large Group Festival, earning I ratings for every performance presented, 15 in total. Mrs. Erpelding is currently planning her 4th out of state trip for her orchestra, having previously planned and completed trips to Chicago, New Orleans, and Los Angeles. While traveling with her orchestras, Mrs. Erpelding has conducted performances with her ensembles at the Chicago Field Museum, Northwest University, the National World War II Museum in New Orleans, DisneyLand in California, and Universal Studios Hollywood. In 2019, the Free State performing arts department was named the KSHSAA Performing Arts School of the Year. This distinction of honor was earned in part, with contributions and achievements made by orchestra students lead by Mrs. Erpelding.
Mrs. Erpelding lives in Eudora, Kansas with her husband of 18 years, Darren Erpelding. Darren is also an educator, working at Eudora High School as a Health/PE Teacher, and is the Head Boys and Girls Soccer Coach at EHS. Darren and Judy have three children; Kate (18), Jayla (15), and Beckham (13), who all attend Eudora Public Schools. In 2016, Judy Erpelding presented to the Eudora School Board of Education a proposal to start a High School Girls Soccer program. She organized and led the organization in fundraising the $42,000 needed to start the program. The program is now entering its 5th year and is completely funded. Mrs. Erpelding considers one of her biggest strengths to be her creativity in organizational skills and leadership. She takes pride in her professionalism and finding balance in life with her family and career.