Elementary Choir Clinician
2022-23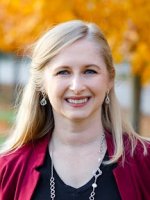 Erin Buffum
Erin earned her bachelor's degree in music education from UMKC in 2009 and has been a choir director at both the middle school and high school level. Her entire teaching career took place in the NEKMEA district, and she is so excited to be home with her musician friends! Erin believes that all people can (and should!) sing! She loves teaching students to be confident, independent, and healthy singers!

Erin has been involved in many leadership roles as a music educator and in 2015 was named Outstanding Young Music Educator by NEKMEA. She is proud to have been the inaugural director of the K-5 theatre program with Madison Avenue Performing Arts in Spring Hill, KS, and spent several summers as the music director for Kansas City Lyric Opera's summer opera camp. Erin has previously been a member and soloist for the Kansas City Symphony Chorus and has also been a member of the Kansas City Chorale.

Erin earned her masters degree in school counseling in 2021. She is currently an elementary school counselor in the North Kansas City School District and teaches private voice lessons at Ibsen Dance Theatre.