Middle Level Band
7th/8th Grade Clinician
2023-24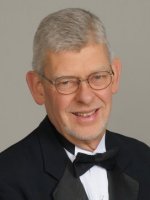 Gerald Gipson
Gerald Gipson holds Bachelor and Master of Music Education Degrees from the University of Missouri-Kansas City where he studied percussion with Charmaine Asher Wiley. He studied advanced conducting with David Worthington of UMKC and Dr. Craig Fuchs of Pittsburg State University. He began his teaching career in 1973 and retired in 2017 from Oxford Middle School in the Blue Valley District. Except for two years, all of his teaching experience has been at the middle school level, and all has been in Kansas.

Mr. Gipson is a founding member of the Kansas John Philip Sousa Junior Honor Band and served on the Executive Committee from 2003-2016. He was co-conductor of the Olathe Area Youth Symphony for nine seasons and was guest conductor at the Midwestern Music Camp for seven summer sessions. His bands performed for the Kansas Music Educators In-Service Workshop on numerous occasions.

Mr. Gipson was inducted into the KMEA Hall of Fame in February of 2018. He continues to be active as a substitute teacher, clinician, guest conductor, and adjudicator. He also serves as Associate Conductor of the Overland Park Civic Band.