Middle Level Band
9th Grade Clinician
2023-24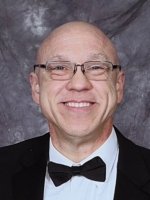 Scott Freeby
Scott Freeby earned his bachelor's and master's degrees in music education from Kansas State University and is retired from his position as Director of Bands at Anthony and Eisenhower Middle Schools in the USD-383 Manhattan-Ogden Public Schools. Scott began his career as a full-time substitute in the USD-343 Perry-Lecompton-Williamstown School District. He left Perry to teach for 4 wonderful years in Herington, Kansas, USD-487. After Herington, Scott landed his dream job in his hometown of Manhattan serving in the USD-383 District for 32 years.

In his 36 years as a band director, Mr. Freeby has been awarded the Bob Srack Excellence in Teaching Award, The City of Manhattan Mayor's Teacher Award, a USD-383 Blue Ribbon Service Award, and was twice recognized as the North Central District Middle Level Educator of the Year. He was also the recipient of the 2007 Individual Artist Mini-Fellowship for Music Composition from the Kansas Arts Commission and in 2012, was nominated for the Secondary Level Kansas Teacher of the Year by USD-383.

Mr. Freeby has served as a guest clinician/conductor for Public School Music Festivals, the Kansas State University Concert Band Clinic, and as a judge for area music festivals and 4-H music competitions. Scott performs professionally with the Thundering Cats Big Band, the Manhattan Barefoot Dixieland Band, the Manhattan Municipal Band, and as a free-lance trumpet artist for weddings.

Yearly compositions for his Middle School Bands include the use of Multidisciplinary Learning. Multidisciplinary Teaming of teachers immerses students in higher levels of discovery and learning—integrating involvement of multiple classrooms to bring holistic comprehension of an idea or subject. Scholastic disciplines involved in the projects have included the Performing Arts of Band, Orchestra, Chorus, Visual Arts, Language Arts, Dramatic Arts, Technology, Science, Math, Social Studies, Physical Education, and the Gifted Program.

Mr. Freeby enjoys composing for wind band, pep-band, brass ensembles and orchestras. His 2004 International Trumpet Guild premier of Enlightenment with the Kansas State University Trumpet Ensemble went on to be included in the repertoire of the Irish Guard Band of the Queen of England.